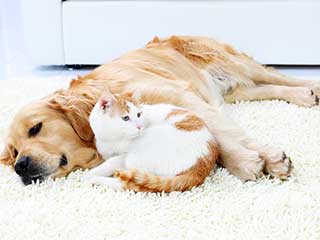 Pet Hair Removal
It's a fact that cats and dogs are great companions, but you will have more maintenance tasks on your list when you keep such a pet at home. One of them is the removal of pet hair and dandruff from the floors and furniture in your house. Find out more about the precise measures which have to be taken.
Carpet Cleaning
In most homes, the carpet requires deep cleaning once every 12 to 18 months. It may be needed more often in houses where pets live simply because cats and dogs shed a considerable amount of hair and dandruff which are potent allergens. These and other allergens like dust and dirt are extracted from the pile. The choice of technique and equipment depends on the height of the pile and the weave to a great extent. The make and dye are also very important. In the end, the carpet is visibly brighter and feels softer too.
Dirty Rug Cleaning
When you see pet hair in the pile and a cloud of dust when you flap the corner of a rug, it is time for cleaning. Each item requires a special approach based on its characteristics. Wool and silk rugs and antique ones, especially coming from the Orient, require the most care. Pet hair is extracted with several gentle passes over each area. The pile will be in perfect condition after the work is completed.
Couch Cleaning
Most pets love relaxing on the sofa. Even if they don't, the hair they shed can easily travel to the furniture and get stuck there. The key to proper cleaning is to reach even the tightest areas such as the ones between the cushions, armrests and backrest. Hair, dust and dirt will be extracted from the upholstery and it will be fresh, great looking and perfectly comfortable once again.
For professional pet hair removal, count on us. We're here to remove all the dust and dirt from your carpet, rugs, upholstery, and tile floors too. Let us at Carpet Cleaning Hollywood do the job effectively in little time. Call us or send a message to hire our services. Do not miss out on learning more from our website.