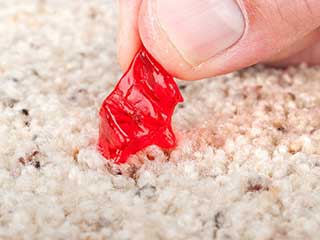 There are so many colors to choose from when it comes to nail polish which is a plus for all the ladies who love them. It is a minus for those of us who have had the pleasure of attempting to remove nail polish out of the carpet. Nail polish is public enemy number one when it comes to stain removal. Everyone knows that nail polish can make the carpet cleaning process quite difficult.
Removing Nail Polish
You must take a cloth and soak it in nail polish remover to get the stain out. The cloth has to be saturated with the nail polish remover. Then place the cloth over the stain and gently blot the area. Repeat the process as many times as needed to for the nail polish to come out of it.
Removing Glue
We all know that children love art and are particularly fascinated by glue and all things sticky. They love to put glue on just about everything from their hands to the wall and the carpet. The flooring and rugs is a magnet for children to put glue on. That takes cleaning to a whole new level. Some people would rather leave it up to a professional carpet cleaning service.
To remove the glue you must dampen a cotton ball or cloth with a little bit of rubbing alcohol. Once the cotton ball and the soft cloth are saturated with rubbing alcohol, gently press it perfectly on the stain. Once the glue is moistened you can gently wipe it off. You must repeat the process as often as needed to remove the glue all the way out of it. After the glue has been removed make sure the stained area is dried completely. Carpet cleaning Hollywood recommends steam cleaning if you are still unable to remove the carpet stains.